AFGE Local 2139 Sends Representatives to the Hill to Fight For You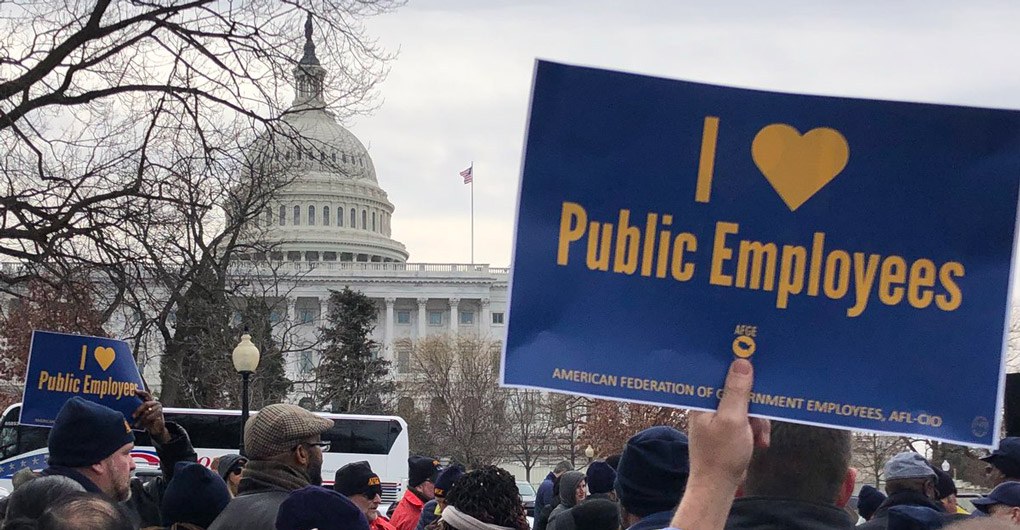 16 Moments You Missed at AFGE's 2018 Legislative Conference
If you didn't come to the AFGE Legislative Conference this year, you missed quite a lot.
The recent massive tax cuts for the wealthy, two government shutdowns in less than a month, and the White House's 2019 budget proposal that freezes federal employees' pay and cuts their health care and retirement are just some of the issues that got AFGE members fired up this week. Our allies were fired up too. Several members of Congress and leaders from other unions joined AFGE members in denouncing the Trump administration and anti-government politicians for trying to undermine the government and its workforce.
Between rallies, workshops, and district and council meetings, AFGE members also stormed the marble halls of Congress to tell their side of the story and educate elected officials on what they do every single day protecting and serving the American people.
Here are some of the highlights of the 2018 AFGE Legislative Conference!
1. Congressional leaders, including House and Senate Minority leaders Nancy Pelosi and Chuck Schumer showed AFGE members some love on Valentine's Day at our rally against the outrageous cuts to pay, health care, and retirement.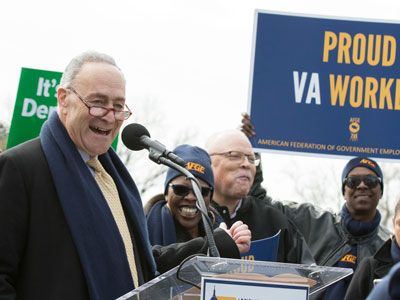 2. AFGE members from various agencies joined their VA brothers and sisters for the March on the VA to denounce the administration's failure to fill 49,000 vacancies at VA hospitals and clinics nationwide.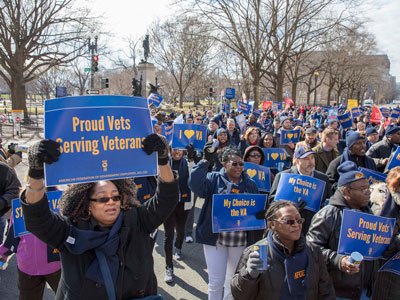 3. To show solidarity with AFGE members, our brothers and sisters from other labor unions joined us at the Valentine's Day rally, the March on the VA, and the legislative conference sessions. Among those in attendance were leaders and members of AFSCME, CWA, AFL-CIO, APWU, NAFE, Working America, AFT, Stagehands, IFPTE, National Postal Mail Handlers, LiUNA, NALC, UAW, Unite Here, and NYC Central Labor Council.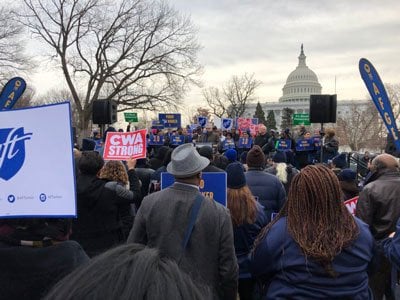 4. AFSCME President Lee Saunders drew major applause when he told AFGE members, "You are not in this alone. 1.6 million members of AFSCME members stand with you every day!"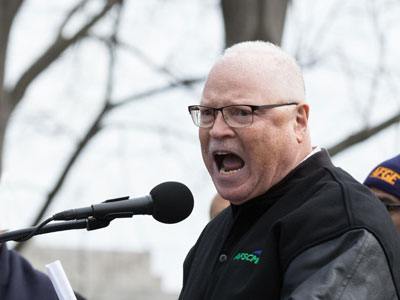 5. CWA President Christopher Shelton electrified the crowd when he said "Trump needs to freeze his hands, not wages," referring to the President's proposed pay freeze for federal employees next year.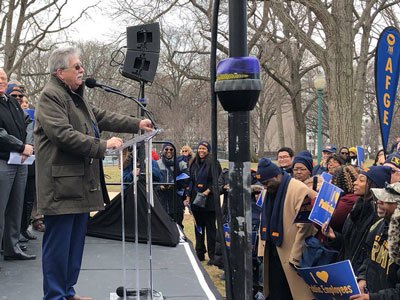 6.Rep. Val Demings of Florida, who was Orlando's first female police chief, got the crowd on its feet when she told us she joined the union on her first day at the Orlando Police Department. She quipped, "I wanted to be a part of something that' bigger than me."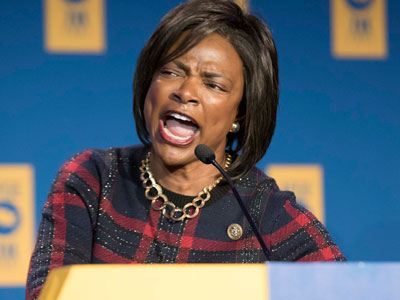 7. Speaking at the general session on Monday, Sen. Tim Kaine of Virginia denounced the Trump administration for trying to make it easier to fire federal employees.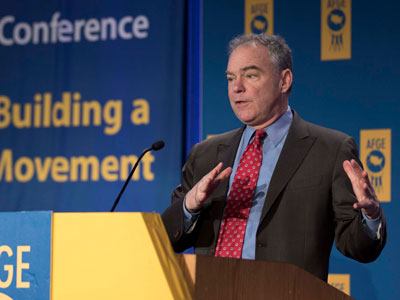 8. Rep. Jamie Raskin of Maryland gave a rousing speech at the plenary session on Sunday, declaring "The government is us. An attack on federal employees is an attack on democracy itself."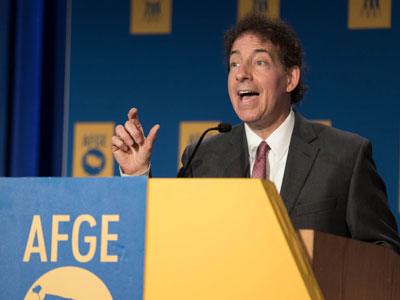 9. At the March on the VA, Gulf War veteran and AFGE Council of Prison Locals President Eric Young recounted how he wouldn't be here today without a VA nurse who helped him get through one of the most difficult times in his life – he basically gave up after being told he had seven years before his kidney was in total renal failure.
10. Senator Bernie Sanders excited the crowd at the March on the VA, denouncing the administration's attacks on the sick, the poor, and government employees who serve the American people.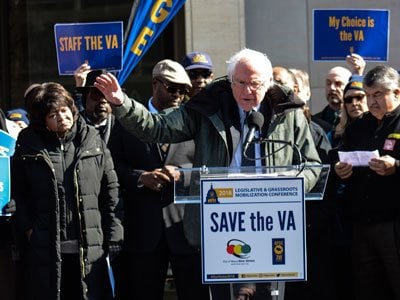 11. AFGE President J. David Cox Sr. fired up the crowd when he urged AFGE members to "Never, never, never, never give up!"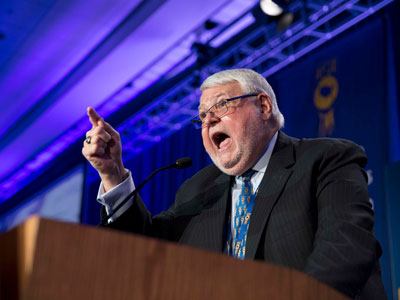 12. AFGE Chief of Staff Brian DeWyngaert was honored for his 40 years of service at AFGE. Brian has served five national presidents and has been a driving force behind many of the union's successes.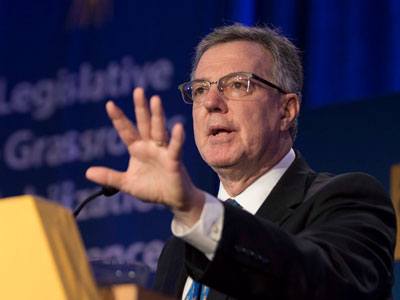 13. Don Drewett was awarded the Law Enforcement of the Year Award. Don has been an AFGE member for 27 years and is currently president of AFGE Local 3860 at FCI Otisville. He has served as National Legislative Coordinator for the AFGE Council of Prison Locals since 2015. He was instrumental in garnering congressional support and eventual passage of two AFGE-backed bills. Congratulations, Don!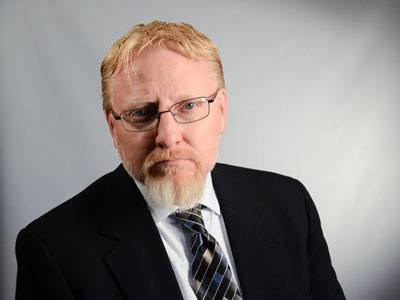 14. Rep. Brenda Lawrence of Michigan gave a heart-felt speech recounting her time as a federal employee working for the U.S. Postal Service and the Equal Employment Opportunity Commission. She explained why she didn't mind standing in the rain at a recent AFGE VA rally: she knows how important VA employees are in protecting veterans.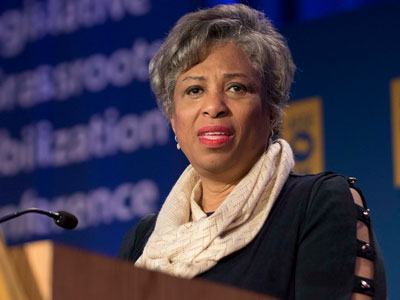 15. AFL-CIO Legislative Representative Cecelie Counts captured our attention with her powerful remarks on why courts and judges are important and how we need to make sure that judges work for all Americans and not just the wealthy few.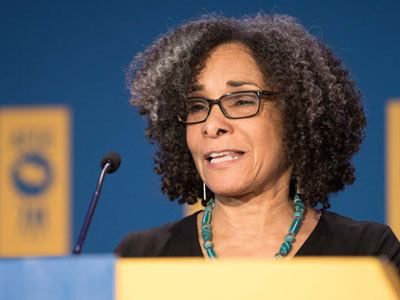 16. Iraq War veteran and Director of Government Relations for VoteVets Will Fischer reminded the Trump administration and members of Congress that when they attack federal employees, they're attacking veterans. The federal government is the largest employer of veterans – more than 630,000 federal employees, or 1 in 3, are veterans.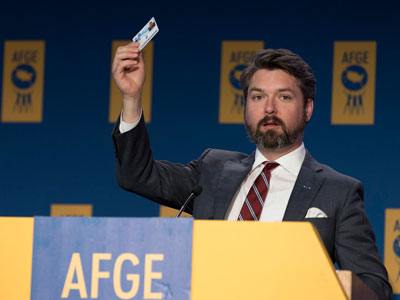 Haven't joined AFGE?
Politicians and powerful special interests are doubling down on their attacks against our democracy. That's why we need to band together to protect our constitution and the important work that we do on behalf of all Americans.
If you are a federal employee and haven't joined AFGE, join us today. When you join AFGE, you're joining a fight for dignity, equality, opportunity, good jobs, affordable health care, and retirement security.